Stock & Collections
Fancy Coloured Diamonds
Natural Fancy coloured diamonds are some of the most exclusive and sought-after diamonds in the world. The rarity of these diamonds and their color makes them the centerpieces of the jewellery they've been set in. Large Natural Fancy coloured diamonds consistently tend to break records at auction houses such as Christies and Sotheby's.
Emdico is one of the few companies that stocks a large range of Natural Fancy Coloured Diamonds. From extremely rare blues & pinks to high quality yellows, our selection of attractive coloured diamonds is exceptionally vast. Since we have been in the industry for over three decades, we have close relationships with diamond & gemstone dealers all over the world. In the event an item is not in stock it can be sourced at short notice.
Platinum Range
Emdico's award winning Platinum Collection is a range of exquisite diamonds mounted in 950 platinum. The collection, perfected over 6 years, comprises of a wide variety of rings, pendants and earrings suitable for any occasion. Exquisite technique, highly skilled workers, innovative designs and impeccable production capability – Emdico combines all the essential elements to produce jewelry that translates into exemplary collections for leading jewelers in the UK. An example of this is Emdico winning the 'Most Commercially Appealing Design' from the Platinum Guild International in 2012.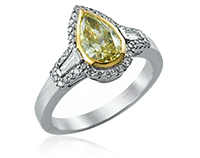 Vintage Collection
The iconic Art Deco style of jewellery continues to remain timeless and extremely popular & incredibly desirable even after almost a century of its inception. Defined by clean geometric shapes, luxe gemstones, metals, and vibrant colors, it still feels as new and relevant in today's time. It's also an incredibly wearable style that our customers and us here at Emdico love. Therefore, in keeping with tradition, our elegant Vintage Collection, inspired by the Art Deco period, is crafted using Old cuts, Victorian, French & Carre cut diamonds mounted in platinum.
Margin Scheme / Second Hand Jewellery
Emdico is an active buyer and seller of second hand & antique jewellery. The Margin Scheme is applicable to the selling of second hand and antique finished jewellery. The scheme allows the retailer to pay VAT on the profit of the item only, instead of the whole amount.
Rings
Engagement rings
Our stunning diamond engagement rings signify the memorable occasion of two people starting a lifetime together. Set in diamonds & platinum or gold we create rings that exude high brilliance. Emdico has a unique set of diamond engagement rings offered in all possible cuts and styles. Our diamond stock includes all possible cuts from Round Brilliant cut, Cushion cut, Radiant cut, Princess cut, Emerald-cut, Asscher cut, Marquise cut, Carre Cut, French cut to Oval shaped, Heart shaped and Pear-shaped and more. They can be customized to individual preferences and styles. Our bestselling rings include the classic solitaire single stone rings, diamonds cluster set rings, diamond halo set rings and three stone rings.
Wedding bands
Our wedding bands are beautifully and carefully crafted with the use of the finest metals and most exquisite gemstones. With a range of platinum and gold wedding bands Emdico offers a wide selection of unique wedding rings for men and women in various styles & designs.
Earrings
Set in platinum and gold diamond Emdico offers a selection of classic solitaire stud earrings, fancy chandeliers and elegant drop earrings with the highest quality diamonds and magnificent rubies, sapphires, emeralds, tanzanites & pearls.
Pendants
Our collection of classic and elegant pendants combines expert craftsmanship with innovative design. Our extraordinary pendants display the sophisticated beauty of brilliant diamonds & precious gemstones set upon a variety of chains.
Necklaces
Emdico offers a selection of beautiful necklace pieces, created with the world's finest diamonds, rubies, sapphires, emeralds, tanzanites & pearls. We also have classic diamond necklaces, showcasing timeless and iconic designs; infinitely charming and eternally riveting.
Bracelets
Emdico has a variety of exceptional diamond and vivid gemstone bracelets. Our classic diamond and gemstone bracelets in rubies, sapphires, emeralds, tanzanites & pearls, display fine design. They are available in classic line bracelets, diamond cluster set styles & fancy on off designs.
If you are unable to find exactly what you're looking for in our collection, we'd be delighted to create a bespoke engagement ring or other jewellery piece to your specification and budget. Emdico's jewellery ranges over 4000 products that can be made-to-order or individually customised. Our delivery time is usually 4-6 weeks. Please contact us to order your required items.